E.N.D., also known as Evil Never Dies, is one of the oldest active metal bands from Croatia which were founded in 1996 in Zadar. This concert was an overture to the upcoming celebration of 25 years of existence of the band. We believe there was no better way than to celebrate it, than at a Live concert in Močvara through a solo concert, as it proved to be the best concert of this year (so far) in Zagreb. Of course, unfortunately, we didn't have a selection of other concerts to choose from (apart from those held as part of festival performances) but, nevertheless, it was great to finally experience a live performance in a very friendly and intimate club atmosphere. The venue wasn't overcrowded and the overall experience was very satisfactory and filled us up with pure joy from the experience of a long awaited concert. Due to anti-corona measures the number of participants at the venue was cut down to a limited number and the concert was sold out.
The band started as a hardcore band heavily influenced by the aggressive sounds of Sick of it All and Hatebreed and this trio worships complex groove, dampened drop tones and hectic riffs, packaged in their distinctive mix of thrash, death metal and hardcore punk. Fans of bands such as Meshuggah, The Haunted, Bury Your Dead, Napalm Death, Sylosis and Whitechapel follow E.N.D. as traces of their legacy can be found in many aspects of E.N.D.'s opus. The band itself identifies themselves as performers of Tech Groove / Thrash / Hardcore style of music.
Experience that the band collected over the years contains a large number of gigs in Europe including eminent Metal festivals, they shared a stage with many of the most influential band to this day and have an extensive and rich discography which was accepted by the fans very well and gave them a very important status of one of the most eminent bands in Croatia you wouldn't wanna miss at any opportunity to see them live in concert.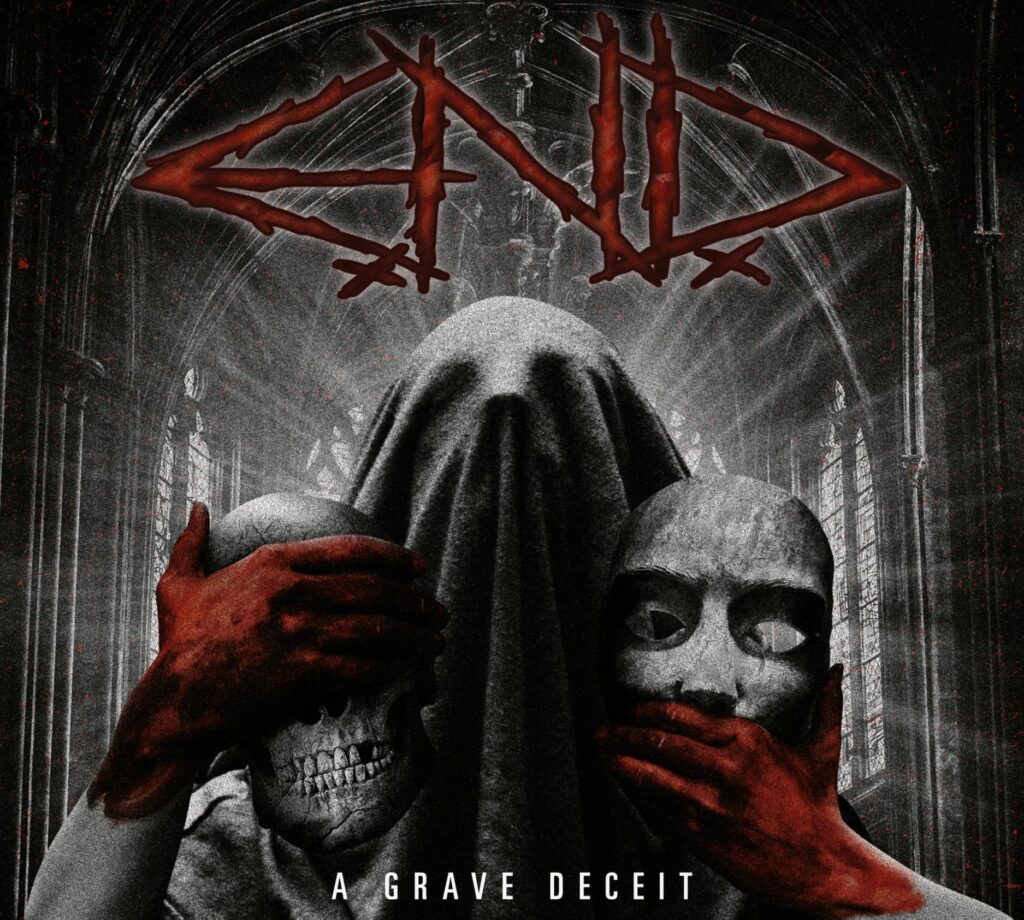 After three albums in the last decade, the band is currently promoting EP called "A Grave Deceit" which presents 5 new songs. New songs take E.N.D.'s menacing sound to a higher level in performance, song lyrics, dynamics and production. The EP was released in November 2020 at it is safe to say that it truly represents some of the best musical peaks the band has to offer. It offers a symbiosis of modern groove with thrash and hardcore, which has brought their fans to ecstasy as there were a lot of heavy headbanging and stage diving during the concert and the overall feedback from the audience was awesome.
I must admit I was greatly surprised to see the setting of the venue before the concerts as some of the portable tables and chairs were left in front of the stage, as we came to see a cabaret show or a sit-through gig. But luckily, nobody in the audience remain seated from the very few seconds after the concert finally started.
From their newest songs that were promoted I find the new song "Unvigorous" could be considered as their masterpiece and a true hit (right into your head or a heart, which ever you prefer). The concert was opened by their new songs and "Blinded By Avarice" and "Unvigorous" were among the first, which showed us that the band has prepared uncompromised attack to all of your senses and their truly presented themselves as a very mature band with so many prospects for even more promotion and success abroad. We sincerely hope festival season of 2022. will not face to many challenges corona-wise and that the band will have many more opportunities to perform outside the country as they truly do deserve it. As for the other songs from their setlist we can point out to: "Trči pokući", "Kučići mačići" and "Kurba ćuća" or ____(list here) the favorite pet name for the favorite song of the band that is your personal favorite. Also a very smart strategy for all those that are "not at home" with English language, so making up a catchy pet name is a way to go.
To conclude, the atmosphere was great and it could be sensed at even one instance that the band has less to offer than in their younger years. We believe they only have more surprises stored up for their fans as their latest work truly promises that.
Websites:
endband.net
facebook.com/endband
instagram.com/endbandmetal
youtube.com/endband
Venue: