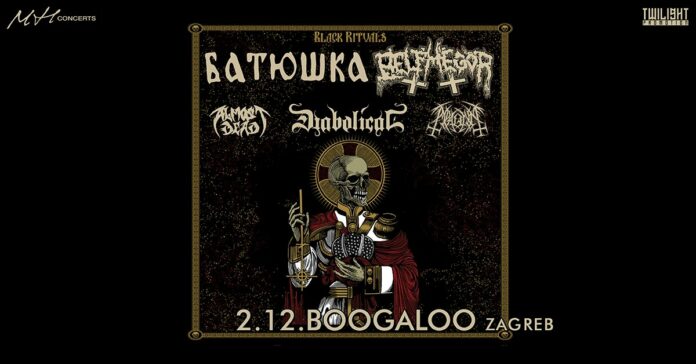 When:
2021-12-02T00:00:00-01:00
2021-12-03T00:00:00-01:00
METAL ATTRACTION BATUSHKA COMES TO ZAGREB'S BOOGALOO AGAIN 02.12.2021. AND BRING BELPHEGOR AND THREE MORE METAL BANDS WITH YOU
After the unforgettable performance of the Polish metal attraction Batushka four years ago in the crowded Zagreb Boogaloo, Batushka returns to the "crime scene" with his new black liturgy on Thursday, December 2, 2021, and brings with him four more metal bands, Belphegor, Diabolical, Almost Dead and Impalation.
Batushka announces a special spectacle that will consist of their old materials as they announce a piece of new material. They are also announcing the sale of a special edition that will only be sold during this tour and will not be available on digital distribution nor will it be reissued later.
Just a week before the start of the tour, well-known Austrian black / death metallers Belphegor will present their new album to our metal audience, which will be released by the famous metal label "Nuclear Blast", so everyone who visits this tour will be the first to hear their live a new masterpiece. Since 1993, Belphegor have been delivering their chosen diabolical metal, and one by one, their albums have brought them to the very top of the black / death metal scene. The band's lyrics tirelessly explore the darkest topics, demonology, sorcery as well as the devil himself.
Just before these two headliners, another veteran band, the Swedish Diabolical, will come on stage, reviving a special set after a quarter of a century, as part of the celebration of their 25th anniversary. Just before the tour, Diabolical will release new material in the form of a special jubilee EP, which will be their first material released since the acclaimed album "Eclipse" from 2019. Often described as "blackened death metal", Diabolical bring a special live experience and display of musical art as there are very few contemporary metal bands.
The American Almoust Dead and the Swedish Ipalement will perform as an introduction to this metal spectacle.
The beginning of the concert has been announced for 18:00 and the ticket price in resale is: special price until Monday 04.10.2021. will amount to HRK 180, from 05.10.2021. tickets will cost 200 kn, while on the day of the concert tickets will cost 220 kn. Tickets: Enrio.hr, Eventim.hr
Pre-sale points (tickets with a picture) from 05.10.2021 .: Rockmark – Ul. Hrvatske bratske zajednice 4, Dirty Old Shop – Tratinska 18.
Covid 19 measures will be in line with current measures in the period when the concert will take place.