If someone had told me a year ago that I would be eager to travel to Budapest just to catch Slipknot, I would have looked under my eye and shook my head.
Location: Papp László Sportaréna, Budapest
Slipknot was always a band I didn't give too much attention to. I knew who they were, where they were from, what they were doing, how influential and famous the songs were. I think everyone who has the Internet has heard at least once about "Psychosocial" or "Before I Forget", whether or not they listen to this kind of music. Slipknot was a gateway band to thousands of teenagers and the first gateway to the vast world of fierce music, but in my eyes they were just another American band about (rising) big noise. That was my attitude until last year, and all that changed was the album We Are Not Your Kind. He makes it to the top of our top 20 selection for the last year. So much fierceness, energy, maturity and aggression packed into the explosive edition, I had not felt for a long time, and before I knew what exactly overwhelmed me, I was already planning a trip to Budapest and Papp László Sportaréna.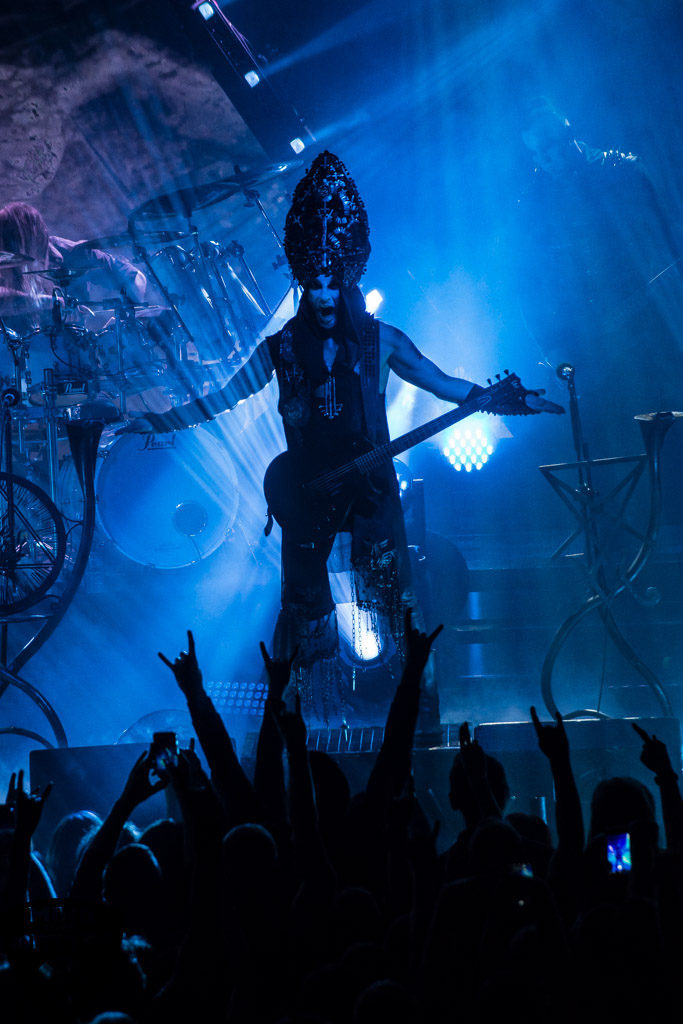 But not to rush things too, Slipknot took the Polish black / death legends Behemoth with him on his tour, and it would be utterly frivolous not to look back at their performance. After spending 15 minutes in a really huge row in front of the Arena, we came to a parterre that was converted into a regular and fan pit section. Maybe I was a little disappointed that I wouldn't be able to break into the front rows and capture some good memories, but the fence that separated the area for ordinary mortals and hc fans served as a good place to enjoy a concert. As is usually the case in other European countries, Behemoth started his gig quite early, at 7:30 pm. The stage was adorned with numerous ornaments, inverted crosses and other symbols related to the band and the evil, Satanic image that accompanies them. In an effective and bombastic way, they opened with Wolves Of Siberia. Nergal and the rest of the company are still promoting their latest album, "I Loved You At Your Darkest," in 2018, and have made most of the setlist songs from that very album. In addition to the special decorations, there was also a lack of smoke and pyrotechnics. The fire was burning everywhere as Inferno rattled the drums mercilessly, and Nergal shouted "Ora Pro Nobis Lucifer."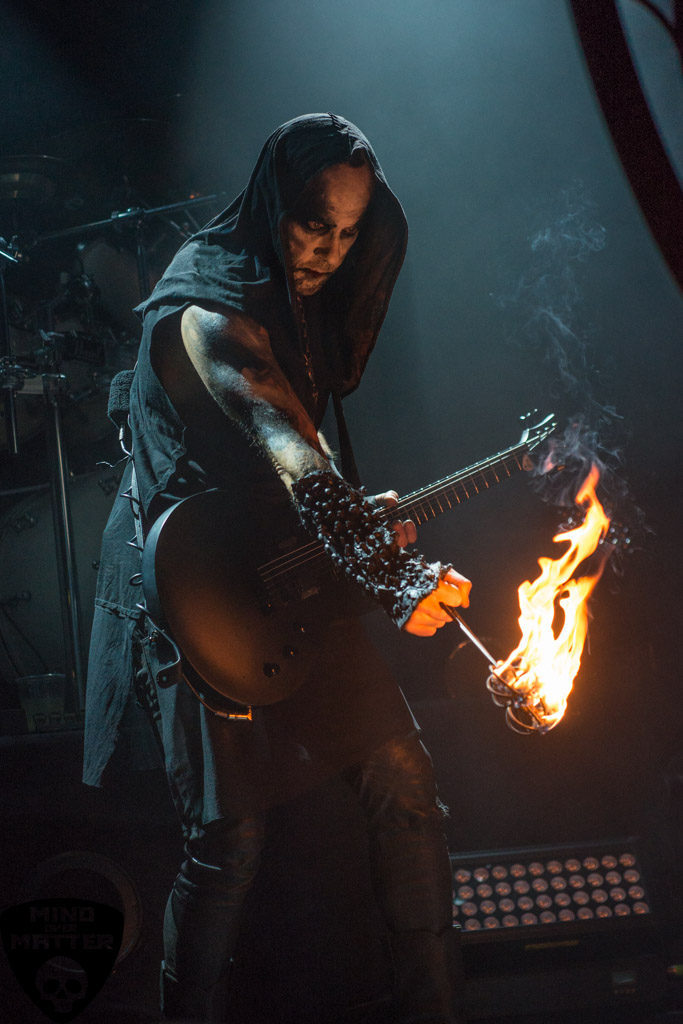 Anyone who has already had the opportunity to meet Behemoth knows that their concert is a perverse ritual enchanted by evil energy that you cannot escape. They are chasing you, electrifying and full of a sense of power, and for the first time such evil energy has been felt by the wider masses. While one might foreshadow Nergal for making a big tour with a mega-popular band, the real truth is that this is an ideal opportunity to push extreme music to the fore. Behemoth has been showing for years that they are ready for big stages and productions. Theatricality lies with them, and the songs "Room 5: 8" and "Blow Your Trumpets Gabriel" are damn addictive and effective even when the sound is not at an enviable level. I would single this out as the only major problem of the evening. The instruments could clearly hear the drum as the guitars were somewhat muffled and blurred. It was still a long way to go, but the criminally quiet Nergal vocals spoiled the overall impression of the otherwise excellent Behemoth. It's a shame because Nergal has been in great shape lately and we know how good the band sounds when things get tight and work out. They closed their 45 theatrical minutes with "Ov Fire And The Void" and "Chant for Eschaton 2000" and filled the audience with the evil energy needed for the chaos ahead.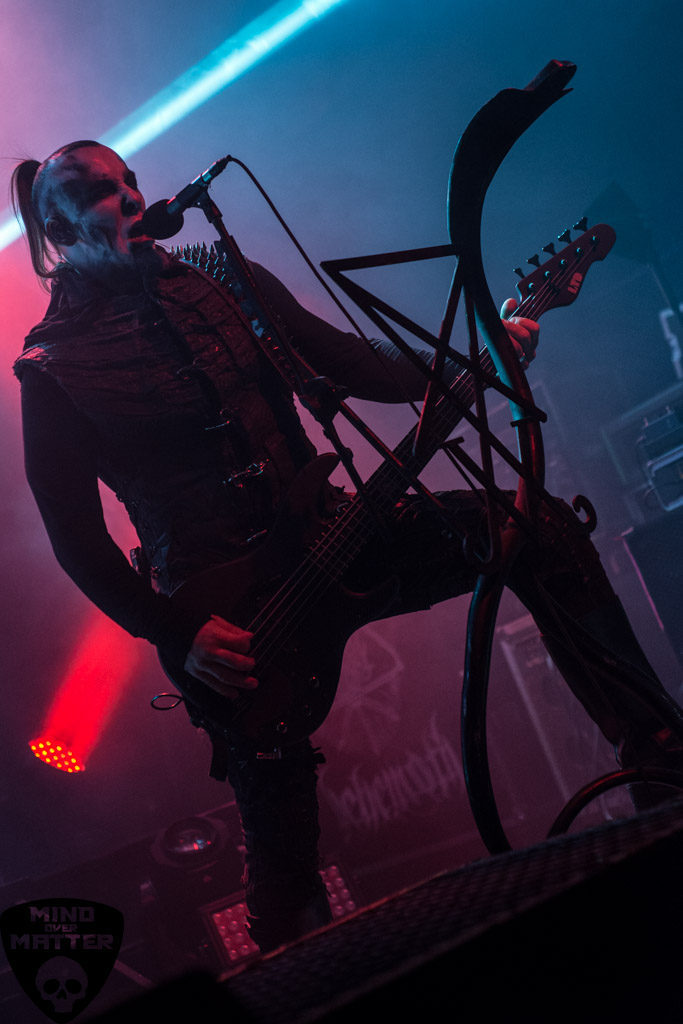 Setlist: 01. Wolves Of Siberia 02. Daimonos 03. Ora Pro nobis Lucifer 04. Room 5:8 05. Bartzabel 06. Blow Your Trumpets Gabriel 07. Ov Fire And The Void 08. Chant For Eschaton 2000
And there was a slightly longer pause until the complicated and huge stage was complete. Once everything was ready … a joke. The lights go out, the curtain rises, and a spooky introduction to the song "Unsainted" infuses each of the 20,000 souls present. Drums, guitars, beer barrels, beer glasses in the air, silent on all sides and general chaos. It's Slipknot. All the energy we have received and accumulated is now coming to the surface as "Disasterpiece" comes out. There were seats on the stage for all nine members. Nine of them each have their own mask, their uniform, their role, and there is not a single second when there is no chaotic play in front of you. Shawn Crahan (Clown) and the so-called Tortilla Man (still unknown in identity), on their special pedestals, high above all, insane and animal movements, swarmed the atmosphere to celestial levels. Sid Wilson, dressed in an evil shaman, would run up the stairs from his keyboards to the foreground and the very edge of the stage and back to the moving a la Rammstein lanes. Of course, all this chaos is accompanied by strong guitars, and their credit goes to Jim Root and Mick Thomson, while Corey Taylor gives voice to the whole monster of sound. During the concert, Corey apologized for not feeling well for the last few days and for not being in the best shape, but at the same time he promised to give 100% of himself, and that felt. The demanding and brutally aggressive "Nero Forte" that broke the necks broke, and nothing before "For I Forget" went through, where the audience joined. With so many members and events, it was hard to catch from the edge of the stage that sound was expanding, especially when Corey was joined by Tortilla Man on vocals. Party.
The pyrotechnics were stronger and larger than on Behemoth, and the video walls were the icing on the cake, already an effective and special performance. Production is one that is rarely seen at metal concerts, and even less frequently in Croatia. Unfortunately, we have to reconcile that for such spectacles we have to reach Vienna or Budapest, but it pays off. But it wasn't all wonderful and beautiful, and Slipknot had similar sound problems to Behemoth before. The vocals used to get lost while the drums overpowered all the other instruments for a moment, which at times made it impossible to completely enjoy the concert, but ok, let's move on because the madness doesn't stop.
I was pleasantly surprised by the faster version of the personally annoying "Psychosocial" that blew the audience literally up because crowdsurfing started. And then everything went quiet. Only "Today, up on this hill I'm counting all the killers" could be heard from the dark, which of course meant the start of the excellent "Solway Firth". And then the atomic punch, the burst of gunfire, and the slamming slap in the form of devastating drums. The only thing that matters, the only thing you hear and feel is the drum. Jay Weinberg kept his rhythm throughout the concert with his animal power, but this is his thing, the thing where he is the main star and the thing that shows how much Slipknot has matured. It is no longer a mere charge and a huge wall of noise, as before we hear carefully tailored riffs, the first music plan and background, melody and aggression, and of course the lyrics that even raise dead people from the grave. In the event that someone's concert seemed so tame by now (no, definitely not), Alessandro Venturella took care of who, before Birth Of The Cruel, removed the bass with a built-in flame thrower and reminded us that this was no ordinary concert. Clown was joined by additional pyrotechnic outbursts with a burning baseball bat and a beer barrel, prompting the whole hall to sing ("a better term"). It didn't matter if you were a kid just discovering fierce music or an old rocker who grew up with Iron Maiden and Motorhead, people recognized the energy Slipknot carries and delivers, and we all reciprocated. Corey spoke to us with a motivational saying that he should accept life's challenges and invited us all to go wild on "All Out Life". It was once again seen that newer things sound better and stronger with all the production present. Maybe it's just me and the fact that I've never been a huge fan of the first Slipknot releases, but as hell they just sound more powerful and powerful.
After another short break (there were more during the gig, changing, scenery …) we went to the finale and the old hits. "(Sic)" came first, followed by "People = Shit" and the whole arena went crazy again. Ok, I admit it sounded as energetic as the newer songs, and so did the ending with "Surfacing."
Setlist: 01. Unsainted 02. Disasterpiece 03. Eeyore 04. Nero Forte 05. Before I Forget 06. New Abortion 07. Psychosocial 08. Solway Firth 09. Vermilion 10. Birth Of The Cruel 11. Wait And Bleed 12. Eyeless 13. All Out Life 14. Duality bis 15. (sic) 16. People = Shit 17. Surfacing
After just over an hour and a half of intense gig and my first encounter with uncontrollable madness called Slipknot, I can say that they deserved to be where they are. On a sold-out European tour in front of 20,000 people every night. Slipknot provides an unforgettable, crazy, cheeky and controversial performance that stays in your memory. Even though it had its more serious flaws, and I primarily think of a sound that was not at the level of a big, famous and professional band, it was a concert that was worth experiencing. Even if they played "The Devil In I", "Sulfur" or "Orphan" (maybe all three) instead of the breaks, I would have gone completely happy and happy.