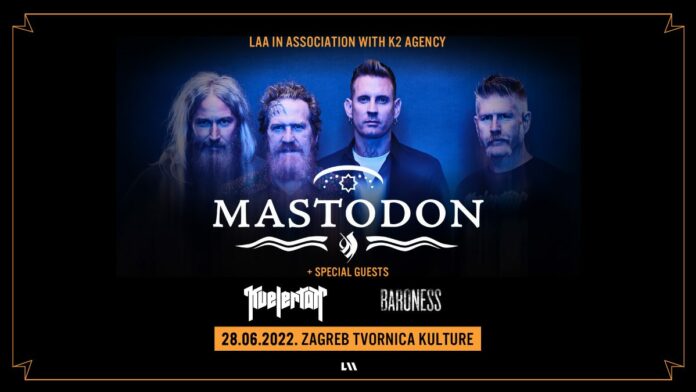 When:
2022-06-28T00:00:00+00:00
2022-06-29T00:00:00+00:00
One of the biggest and most important metal bands of today, Mastodon, returns to Zagreb's Tvornica kulture on Tuesday, June 28, 2022. These giants from Atlanta are coming to one of their favorite concert destinations after a long five-year break. times in the past sold out. They are returning to Tvornica kulture with probably the strongest club package of bands in the genre at the moment. Their guests will be Kvelertak and Baroness, both bands well known to the local audience and with a large fan base in this area. is a recent first single "Pushing the Tides". they were awarded for the song "Sultan's Curse", from the album "Emperor of Sand", which was nominated for best rock album. During his two-decade-long career, Mastodon has cemented its position as one of the most sought-after bands. they come in a great package with American metal legends, the great Baroness, as well as the Norwegian heavy metal band Kvelertak. The Mastodon tour is going to be armed with new songs, but also with a rich catalog of old classics.
Tickets go on sale on Thursday, September 23 at 10:00 at a price of 200 kn. This price is valid until October 31, and from November 1 it will amount to HRK 230. If there are any left, on the day of the concert the ticket price will be 260 kn.
The points of sale are Dirty old shop, Rockmark, Aquarius and Dallas in Rijeka, all Eventim's physical points of sale online at www.eventim.hr as well as Entrio's physical points of sale online on entrio.hr.